Community Thrift Store, Goodwill, or Salvation Army? Shop and Donate Locally For Bigger Impact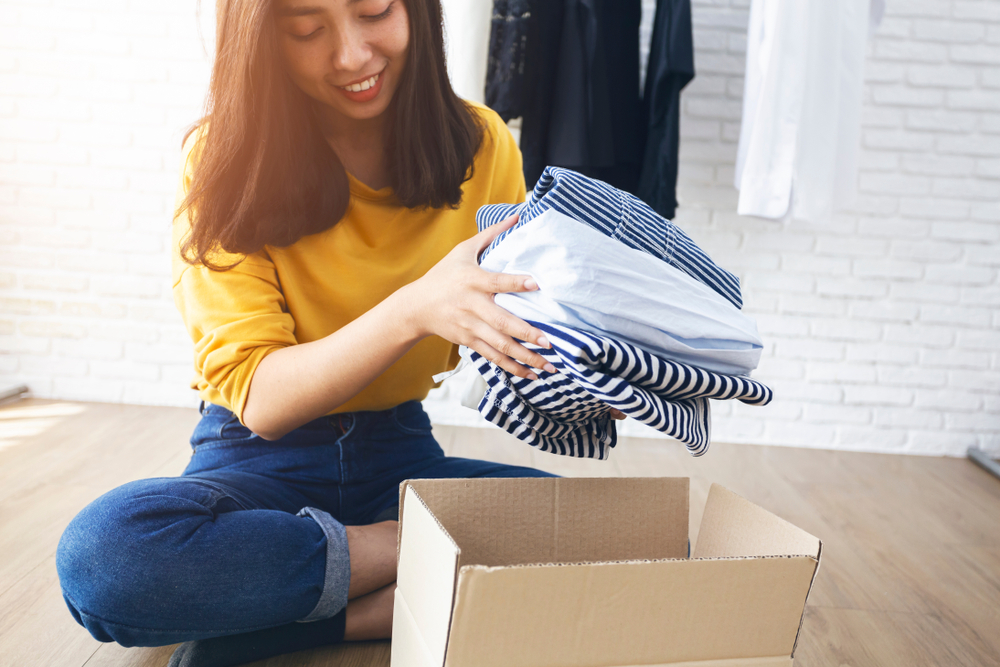 If you are packing for a big move, or if you are just finally ready to tackle that closet cleanout, you may be wondering where to drop off all the extra clothing, accessories, books, or home decor that didn't make the cut – you know, the stuff that is still in great shape, but just doesn't "spark joy." If you aren't moving out or tidying up, you may be wondering where to shop for the best selection of well-priced second hand finds. Where can you find a mid-century coffee table and the perfect vintage jeans? We'll help you figure out which donation center or thrift store is the best fit for you.
What is the difference between Goodwill, Community Thrift Store, Salvation Army, and Other Thrift Shops?
First, let's differentiate between a few different varieties of second hand businesses:
Consignment and Buy/Sell/Trade Stores These businesses offer money in exchange for your used goods, but they are often very selective in the items they will buy or accept for consignment. Merchandise is typically priced more than at a thrift store.
For-Profit Thrift Stores These stores accept donations, but they donate only a small percentage of proceeds to charity. They may brand themselves as "professional fundraisers," but profits benefit the business owner.
Non-Profit Thrift Stores These stores are registered 501(c)(3) charitable organizations. All proceeds, after the cost of running the store, directly benefit a charitable cause and your donation is tax deductible.
Community Thrift Store (CTS), Salvation Army, and Goodwill are all Non-Profit Thrift Stores and your donation or purchase at any of these stores will benefit charity. So, how is CTS different? While Goodwill and Salvation Army are large national chains, CTS is an independent social enterprise that is local to San Francisco. With just one store, we are small but mighty. Goodwill and Salvation Army benefit one non-profit, but we partner with over 200 Bay Area charities, so our donors can choose exactly how their donation will help their neighbors.
How Do I Decide Where to Donate Clothing and Household Items in San Francisco?
Here are some questions to ask yourself when deciding which donation center is right for you:
Does this organization's mission reflect my values? Take a minute to research who your donation will benefit. You may be uncomfortable supporting organizations that discriminate against certain groups. CTS has a non-discriminatory policy and works with a wide variety of charities, from educational and arts organizations to animal and environmental non-profits. If you have a favorite charity in the Bay Area, there is a good chance we work with them! See all our charity partners.
Does it matter to me if my donation stays in my community? When you donate to a national non-profit, your donation may go to large regional distribution centers and end up in a store far from where you originally donated. At CTS, we just have one location and everything is processed on site and sold in our Valencia Street store.
Does this thrift shop have sustainable business practices? Goodwill and CTS are both certified as San Francisco Green Businesses. We are committed to smart conservation practices, efficient energy use, and sustainable water and waste management. Learn more about sustainability at CTS.
When Should I Go to Goodwill Instead of CTS?
We know that a lot of factors go into your decision to donate your gently used items, and we're honored whenever you choose to give to CTS. As a smaller operation, there are some items that we cannot accept for donation. For donations of E-waste, children's items, and certain types of furniture, we recommend donating to your local Goodwill. See the full list of items we are not able to accept for donation.
How Does Shopping at Community Thrift Store Benefit The Bay Area?
We've explained a lot about how to decide where to donate. What about where to shop? Every thrift store has unique items, so lots of thrift enthusiasts will check out multiple stores when they're on the hunt for treasures. Here are a few reasons why you should start your thrift trip at CTS, and why you can feel great about your purchases here:
We have been offering a unique and affordable shopping experience in the Mission District for over 35 years.
We offer an easy way for local non-profits of all sizes to add an unrestricted revenue source to their organization. See all our local charity partners.
We employ friendly, hard-working locals.
Your shopping dollars stay in the community.
Want some insider thrift tips? Read Our Thrift Shopping Do's and Don'ts
Visit Community Thrift Store in San Francisco!
Come see us at 623 Valencia Street. We're open 10am to 6:30pm every day, and we take donations until 5pm. Learn more about how CTS works or sign up for our monthly newsletter chock full of special sale notifications, charity partner highlights, and more