Tidy Up and Help Your Community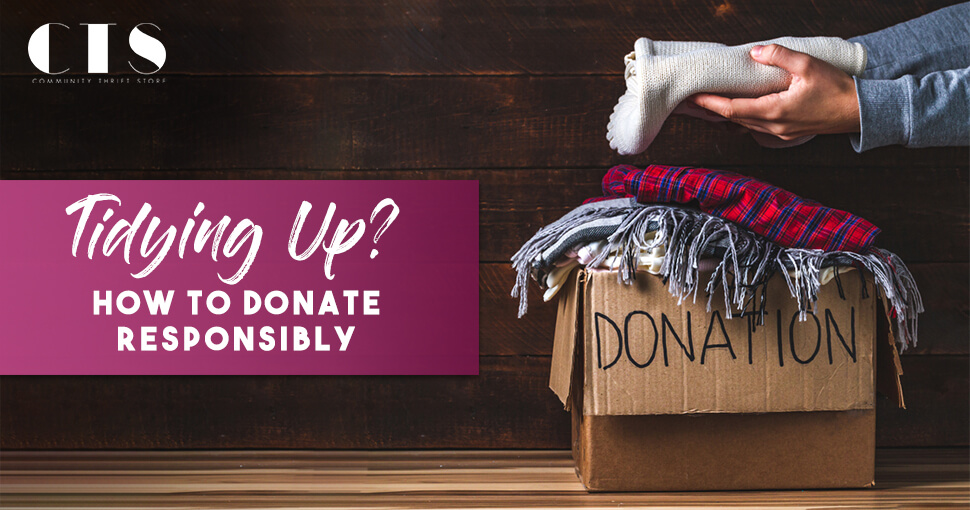 Decluttering? 5 Tips to Donate Responsibly
The best-selling book The Life-Changing Magic of Tidying Up and author Marie Kondo's Netflix show Tidying Up have inspired many people to pare down their belongings and donate items that they no longer need (or as Kondo says, Keep only those things that speak to your heart and get rid of that which does not spark joy.) There have been many reports of thrift stores being inundated by an uptick in donations. Community Thrift Store has been accepting donations in San Francisco for over 35 years, during which time we have turned donations of clothing, housewares, and furniture into millions of dollars of funding for Bay Area charitable organizations. Whether you are embracing KonMarie minimalism, downsizing to a smaller home, or simply making room for fresh finds, here are our tips for being a responsible donor:
Set an Intention Giving away belongings can be an emotional experience, but you can feel good letting go when you know you're supporting a cause that you believe in. Do a little research to ensure you donate to an organization that matches your values. At CTS, we work with over 200 Bay Area charities. Our charity partners span a diverse range of causes, from arts organizations and animal shelters to educational non-profits and groups working to end homelessness. You get to choose which charity will benefit from your tax-deductible donation.
Plan Ahead If you have larger items, you may look for a donation center with a pick-up service. At CTS free pickup is available for furniture donations in San Francisco, but spots fill up quickly so you should plan to schedule your pickup a few weeks in advance. Having measurements and photos ready of your items can streamline the scheduling process.
Recognize Recyclables Remember that anything you donate should be ready for someone else to enjoy – that means all clothing should be clean without any rips, stains, or missing buttons. Clothing that doesn't meet the mark can be recycled – learn more about textile recycling in San Francisco.
Be a Donor, Not a Dumper Check the list of DOs and DONTs for dropping off items for donation. If you are looking to pass on something that isn't accepted for donation, try searching recyclewhere.org for local suggestions. Check donation hours and plan to drop off during staffed hours (10 am to 5 pm, 7 days a week at CTS!) Dropping off after hours or trying to unload unacceptable items can equal added cost for non-profit thrift stores and the charitable organizations they support.
Double Check Your Donations Remove personal photos from picture frames, empty desk drawers, and check pockets of all clothing before donating. Thrift stores receive hundreds or thousands of donations each day and process them as quickly as possible, so if you accidentally leave keys in a coat pocket or a sentimental note inside a book donation, it may be impossible to track down!
Bonus Tip – Take Advantage of Thrift Karma
Many dedicated thrifters believe that being a good donor can give you good luck on the shopping side of the thrift game. So once you have dropped off donations, reward yourself with a stroll around the store! You may be downsizing, but you could find a tiny trinket that sparks joy, the perfect gift for a friend, or just the right piece of new furniture to keep your home organized.
Learn More About Community Thrift Store in San Francisco
Community Thrift Store serves a vital need for donors, shoppers and over 200 Bay Area Charities. We accept donations on behalf of our charity partners, sell the items in our store, and then disburse the proceeds. Community Thrift Store is an independent and non-discriminatory establishment and when you donate to us you can pick your favorite charity! Visit us at 623 Valencia St in San Francisco's Mission District.