8 Reasons Thrift Stores are the Best for Holiday Decor
At Community Thrift Store, we're lucky to be a part of a diverse community in San Francisco. Not everyone who shops at CTS celebrates Christmas, but between Thanksgiving, Hanukkah, Winter Solstice, Kwanzaa, and New Year's, most of us have a reason to be merry around this time of year. Gather friends for a meal and share seasonal vibes with our thrifty tips to decorate and entertain while saving money.
Why You Need to Shop at CTS for Your Celebration
Tis' The Season for Giving
Get an extra dose of holiday cheer knowing that your purchases at Community Thrift Store always support Bay Area charitable organizations. Our 200+ Charity Partners are dedicated to a wide range of causes, from education and the arts to environmental and human rights. Learn more about our Charity Partners.
Update Your Decor
At CTS, you'll find plenty of great holiday decorations that are nearly new and ready to go. But if you're looking for something ultra-modern and totally unique, just add paint! Check out how this style blogger reimagined traditional holiday village decor to match their candy-colored Christmas while another did the same thing with a goth-friendly spin.
Vintage Holiday For The Win
At the other end of the spectrum, is there anything cuter than vintage holiday decor? At CTS, we love a shiny vintage ornament or 1950's aluminum tree. We get lots of vintage holiday finds, but they do go quickly, so check in often if you're on the hunt for these retro treasures!
Take Your Holiday Decor Library Style
Do you even know how many holiday decorations or different kinds of faux "christmas trees" you can make out of books? Visit the book section at CTS and then check out these book menorahs and book trees or if you can bear to deconstruct a defunct book, make wreaths and ornaments out of book pages.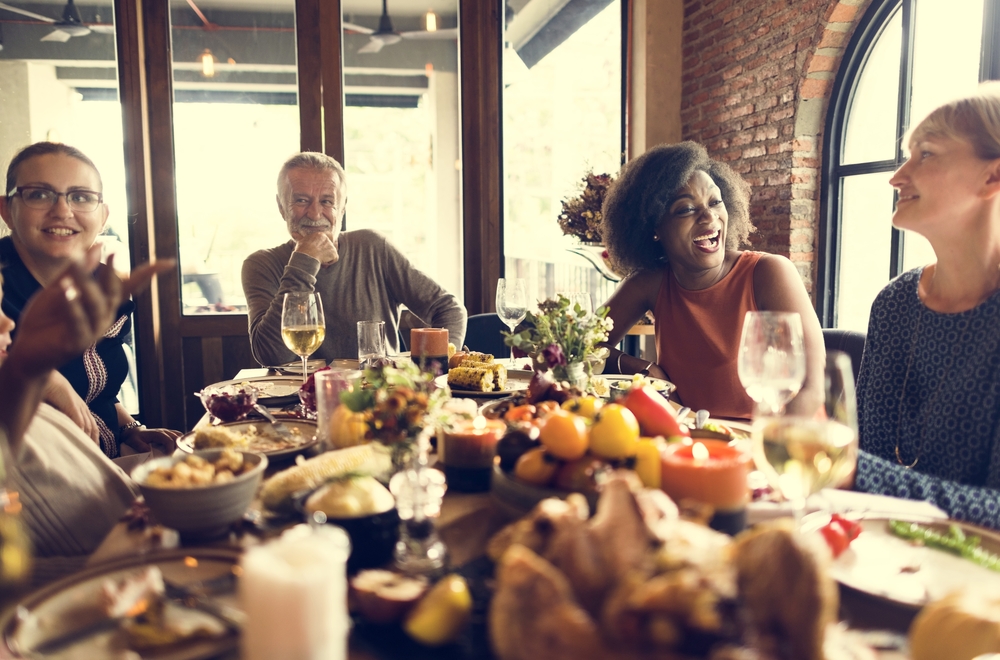 Entertain Without Stress
A large group of friends and family is a reason to celebrate, but things can get chaotic if you're not prepared for a large holiday dinner or a full house on New Year's Eve. We can't help you bake pies or open the champagne, but pick up extra plates, glasses, serving dishes, chairs, and dining tables at CTS and be ready to host a crowd!
Ugly Christmas Sweaters
If your family or your office is all about ugly holiday sweaters, we're here for you! If you don't find "the one" on the racks at CTS, get creative: grab a plain sweater, hit up our decoration section for ribbons, sequins, and baubles, and then grab your glue gun to create your own unique masterpiece.
Channel Your Inner Martha Stewart
Don't get scared away from pictures of Pinterest fails, we believe in your ability to create amazing DIY holiday decor! Community Thrift Store has everything you need to craft an amazing tablescape or create a one-of-a-kind wreath. Check out ideas to repurpose common thrift store items like glass vases or picture frames.
Celebrate Sustainably
At Community Thrift Store, we are dedicated to sustainability every single day so we're excited to help our neighbors have a more environmentally friendly holiday! You can be more sustainable by purchasing second-hand decorations, creatively upcycling, or buying thrifted dishware instead of using disposable. Learn more about sustainability at CTS.
Visit Community Thrift Store in San Francisco
Community Thrift Store has been serving up thrifty finds and supporting Bay Area charities for over 35 years. Visit us at 623 Valencia St. 10 am to 6:30 pm every day. We wish all our shoppers, donors, and community partners a happy and peaceful holiday season!